The 2022 Subaru Love Promise Community Commitment Award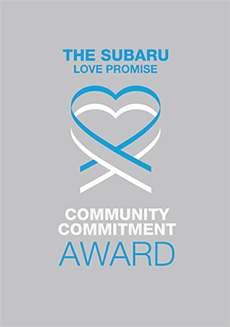 We've been nationally recognized for our dedication to our community and the Subaru Love Promise.
We're honored to receive the 2022 Subaru Love Promise Community Commitment Award. This award nationally recognizes Subaru retailers who are making the world a better place while demonstrating an outstanding commitment to supporting passions and causes in local communities. These efforts are focused in important areas such as the environment, community, health, education, and pets.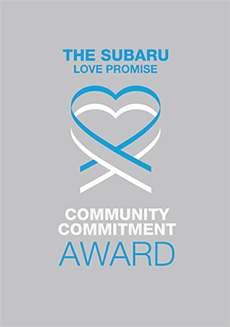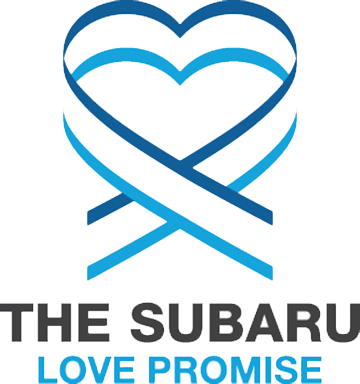 What is the Subaru Love Promise?
Subaru and our retailers believe in making the world a better place and the Subaru Love Promise is our vision of respecting all people. This is our commitment to show love and respect to our customers and to work to make a positive impact in the world.
How is Fiesta Subaru dedicated locally to the Love Promise?
For the past 5 years we have given a car to a family that could benefit from a reliable vehicle. We have partnered with local churches and clinics around the city to find these families. Each year we also sponsor families to provide presents to them and make sure they have a Christmas. Throughout the year we have sponsored local youth sports programs to help promote an active healthy future for the younger generation. We sponsored everything from women's H.S. Soccer at Albuquerque High all the way to baseball, football, and other soccer team We have committed to Subaru to build a new facility and in that we will incorporate multiple energy saving items and use green technology.
Love Promise Stories from Fiesta Subaru
Subaru and Fiesta Subaru believe in making a positive impact on the communities in which we live and work. We uphold that belief through our Love Promise Community Commitment. Every month, we select inspiring stories from customers and partners from around our area who strive to support our collective commitment and feature them here
New Mexico Wildfire out of Control! - Chad T
With the largest fire in the United States raging out of control right in our backyard we feel helpless as we watch and hope that things will turn around and get better sooner rather than later. As of May 8, 2022 the Calf Canyon Fire and Hermit's Peak fire have combined into one large fire and have burned over 176,000 acres of our New Mexico forest! There are currently over 1,500 personnel fighting this fire and over 15,500 homes have been evacuated. With the growing need for just the basic necessities for not only the brave people fighting this fire, but also for everyone being displaced by evacuation orders or losing their homes and/or business to the fire, we decided to help however we could. On Friday May 6, 2022, Fiesta Subaru went and grabbed as many cases of water, Powerade, boxes of granola bars, fruit snacks and toiletries that we could load in some Subaru's and drove about an hour north delivering them to the evacuation and firefighter center. Located in Glorieta New Mexico donations are being managed by the Salvation Army and American Red Cross and then being distributed wherever they are needed most. With so many families displaced from their homes and Firefighters from around the country needing just the bare and basic necessities to survive each day. Receiving these donated items from the communities all over our state is making a difference that most wouldn't even begin to imagine! We will continue to collect donations for the evacuees, Firefighters and even those pets that are currently in need of food as well. We promise to do our part as a Subaru retailer and help replant any trees we are able to for future generations of New Mexicans.
---
Helping a fellow Subaru Retailer in Louisiana - Chad T
We are kind of lucky living in New Mexico. The weather is amazing most of the time, we don't have very many catastrophic storms and we definitely don't have to worry about Hurricanes. So, when Hurricanes threaten other parts of the country, we watch from afar and don't really understand what circumstances people in those areas are coping with. Having many friends at Baldwin Subaru in Louisiana we prayed and hoped for the best as Hurricane Ida made landfall in Louisiana last month leaving homes and businesses with out electricity. We were happy to hear from our friends at Baldwin Subaru, but also saddened to hear about the destruction to homes and businesses in their community. They told us about their efforts to get supplies to families that did not have water, food, first aid supplies or whatever they could get their hands on that people were needing in Covington. However, one thing they were unable to find and that was in short supply were tarps to put on damaged roofs and gloves for people to protect their hands while working to rebuild or clear debris. We knew that we could probably get many of these items here in New Mexico. So, we immediately went to our Local Home Depot and purchased 100 Tarps and all the Work Gloves they had in stock. We sent them out the same day to Baldwin Subaru in Covington, LA hoping they would get there in time to make a difference! Hearing how much these items were able to help people in their community made us feel as though we were helping people in our own community. Even though we are over a thousand miles apart, we were able to work together to make an impact in a community in need showing the true purpose behind the Subaru Love Promise, being committed to the lives around us no matter how close or how far those lives may be!
---
Fiesta Subaru - Back to School Event - Fiesta Subaru T
The majority of students in New Mexico have not participated in "in person" learning for over 18 months. Getting prepared for the first day of school in 2021 is like no other year that any of us has experienced. Many parents in New Mexico had been Furloughed, laid off or had their hours cut during the Covid-19 pandemic and have struggled getting their children ready for that BIG first Day. Teachers are running into the same problem getting their classrooms ready with limited supplies provided by their districts. On Sunday August 8, 2021 Fiesta Subaru invited any student that needed help obtaining a backpack and basic school supplies to come out and get a free backpack. We put the basic supplies in each backpack, like pencils, rulers, erasers, glue, scissors, etc........ Students from Kindergarten to High School all came out to get their backpacks! We also called for all Teachers that were having a hard time getting supplies for their classrooms to come by and get a $100 Visa gift card to help buy supplies needed that they otherwise wouldn't be able to get. After the event was over Fiesta Subaru handed out over 500 backpacks to students of all ages and 35 $100 Gift cards to teachers from all over Albuquerque and the surrounding communities. Another group of students that Fiesta Subaru wanted to lend a hand to were on the reservations. The Jemez reservation has been locked down since the pandemic started back in 2020. Restricting travel on and off the reservation to the most necessary travel needed. These children were unable to come to our event, so we went to them. One of our employees is a member of the Jemez Pueblo (still needing an escort) traveled to the reservation and delivered 70 backpacks with supplies to the students attending Sand Diego Riverside Charter School. Finally, being partnered with Apache Elementary School for Subaru Loves Learning, Fiesta wanted to make sure they had some backpacks for any of their students in need. We put aside and delivered 50 backpacks to Apache for any student that came to the first day of school without one or had one that may not be quite up to par. After all pickup and deliveries of Backpacks, Fiesta ended up handing out over 600 Backpacks with the basic school supplies and 35 $100 Gift Cards for Teachers. The event was a huge success getting students and teachers of New Mexico off to a great start for the 2021 School Season!
---
Backpack Giveaway - Dean J
With most kids beings out of school for the past year and a half and a lot of parents working less or not at all, Fiesta Subaru stepped in to make sure that any kid that needed a backpack for the new school year had one. Fiesta Subaru purchased 600 backpacks already packed with the basic school supplies. Pencils, ruler, crayons, paper, folders, scissors, etc......... In a 3 hour period Fiesta handed out 600 backpacks. From kids starting Kindergarten to High Schoolers. Anyone that needed a backpack got one!
---
Fiesta Subaru Helps Teachers Heading back to Class - Kerri T
With many teachers in New Mexico going back to their classrooms for the first time in almost a year and a half, getting all the supplies they need could be a very tough challenge. Especially when they don't have enough supplies during a regular year for their classrooms. But, this is not a regular year. With covid disrupting the end of the year in 2020 and students moving to virtual learning, the supplies they would normally see were disrupted as well. Fiesta Subaru during Subaru Loves Learning month has decided to give back to the teachers in New Mexico. On Sunday August 8, 2021 we invited teachers to come out and receive $100 gift cards (during our Big Backpack Giveaway) to help get last minute supplies before school officially starts on August 11, 2021. We had an overwhelming response from New Mexico teachers, handing out over 35 gift cards in a 3 hour period. We hope to have future events making them bigger and better each year for our amazing teachers in this state and awesome students!
---
Fiesta Subaru Swings to Support the Respite Home - Chad T
Alta Mira is proud to operate the only Respite Home in New Mexico! Short-term care is provided a beautiful, accessible house in Albuquerque's northeast heights. This service provides an opportunity for an individual to enjoy time away from their caregiver and develop new relationships with their peers via community outings and new social experiences. Fiesta raised over $1000.00 to help support the Respite Home during Alta Mira's Swing Fore the Respite Home
---
Offsetting Carbon Footprint & Planting Trees - Dean J
As a Subaru retailer and being committed to the environment, Fiesta Subaru is pledging to plant 15 trees for every vehicle that they sell. In an effort to offset the Carbon Footprint of each car and give their customers an opportunity to make a difference in the community for years to come. The Carbon Offset company is working to reverse climate change and save our environment. By planting trees both locally, in the United States and around the world we should be truly making a difference in climate change! The campaign kicked off on April 20, 2021 (Earth Day) and before the end of the month Fiesta Subaru had already committed to planting 765 trees! The anticipate that for their first full month of partnership in May, they will be planting over 1800 trees! The goal by the end of 2021 is to hit a total of 15,000 trees planted.
---
Generous Donation to Watermelon Mountain Ranch! - Kerri T
The past year during the Covid-19 pandemic has left many Non Profits fighting for donations to stay a float. When Watermelon Mountain ranch first partnered with Fiesta Subaru for the Share the Love event, they never thought that a donation of this magnitude would be coming. Watermelon Mountain Ranch, New Mexico's Largest No Kill Shelter, first partnered with Fiesta Subaru at the beginning of 2020 shortly after the Share the Love Event of 2019 with the plans to be their partner in 2020. The covid-19 pandemic put a lot of their plans for 2020 on hold while the nation coped with getting the virus under control. As November and the 2020 Share the Love event finally arrived, it was then got put on hold once again by the State of New Mexico due to an uptick in Covid cases. Fiesta Subaru was left with just 4 weeks of the Share the Love Event. In March of 2021 Fiesta Subaru received news of the 2020 Share the Love Donation amount and received the check to give to Watermelon Mountain Ranch. With no expecting that the check would be in the amount of $19,450.00!! A check presentation was put together to award the ranch with the money that will eventually go toward Molly's Mercy Missions to rescue animals from High Kill shelters and get them to WMR!
---
Fiesta Subaru Helping Kids Stay Warm This Winter! - Chad T
Fiesta Subaru has partnered with the local ABC TV affiliate KOAT to ensure that kids in New Mexico stay warm this winter. This year, the need is much greater than it has been in the past due to the Covid19 Pandemic and many families not receiving the income they were expecting when the year began. Fiesta Subaru is accepting donations at the Dealership from November 30, 2020 through December 18, 2020 for children (Boys & Girls) ages 5 years to 18 years. On December 18th the Coats that were received in the dealerships donation box will then be combined with the donation from Fiesta Subaru and will then be made available to those children in need.
---
Fiesta Subaru Partners With ABQ Mom! - Chad T
In a Virtual event ABQ Mom hosted their 4th annual "Bloom" event in Albuquerque. Giving local mother's a chance to mingle with other local mom's and hearing from guest speakers giving inspirational messages to mothers from all over New Mexico. Fiesta Subaru sponsored the A Britax Boulevard ClickTight Convertible Car Seat to be given away to a mother either looking to upgrade their current car seat or one having their first or additional child. We are excited to additional opportunities coming up with Fiesta Subaru and ABQ Mom!
---