Subaru Pet-Friendly Accessories Near Las Cruces NM Wag the Dog
Nothing more fuels guilt than the sad stare of the four-legged family member while his masters head out the door for a Subaru adventure. Because the automaker truly cares for its customers and strives to ensure the very best in the Subaru experience, it decided to make provisions for our family pets. An entirely new level of comfort is readily available through Subaru pet friendly accessories near Las Cruces NM to keep Boomer and Kitty safe and sound as they enjoy the amenities of the family truckster.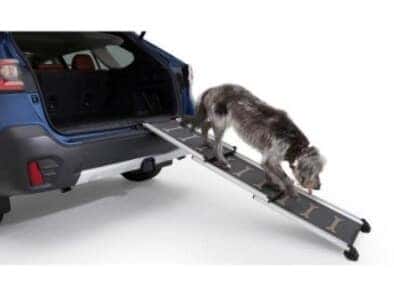 The most exciting Subaru pet-friendly accessories near Las Cruces NM must be the stow-away ramp. As Boomer climbs up in age, he can continue to climb up in the Subaru. With the love dogs associate with car rides, Subaru solidifies the ability for that love to continue while our dogs venture into their golden years. The Subaru pet ramp proves to be quite versatile. With its ability to fold up for easy transport, its surface boasts a non-skid covering. Boomer can enter and exit the Subaru comfortably and with confidence. A splash through the water at the lake is bittersweet as he walks the ramp back into the Subaru to complete the day with an equally safe and comfortable ride home.  
Subaru Pet Friendly Accessories Near Las Cruces NM: Throne of Transport
It is no secret that most felines do not appreciate a car ride, even in a Subaru. The automaker made a gracious attempt at changing opinions with its pet carrier and bed. Now Kitty can travel in comfort with a touch of royalty as she commands her position in the Subaru. While it might feed the feline ego, owners can enjoy the drive knowing that their feline friend is accompanying them safely as the carrier can be buckled into place through the use of the Subaru seatbelt. Comfort and safety continue as the theme of choice exhibited by Subaru in its vehicles and pet accessories.
Subaru tries at neutrality when providing for all its passengers, even the furry ones. While a bark can persuade Subaru of excitement and a relaxing purr, it must accommodate its human customers. Catering to all, Subaru offers two-legged passengers lush leather seating but provides a multipurpose full coverage pet blanket that drapes and protects seats. Ensuring comfort and making every attempt not to insult Fido and Kitty, Subaru designed the covering with padding to provide that memorable comfort ride it is so well known to offer.
Harnesses
For the more mature pet passenger, Subaru provides a selection of harnesses. Whether Fido is a Labrador Retriever or a Poodle, Subaru offers a harnessing solution. While our panting friends enjoy the view from the front seat with their heads out the window and their ears blowing freely in the wind, Subaru owners and masters can delight in the joy of knowing their friends are safe and secure. Should an instance calling for emergency braking come to light, Mom will more than likely still throw her arm out in front of their furry baby.
To retrieve more information on Subaru's complete line of pet accessories, contact Fiesta Subaru at 8100 Lomas Blvd Albuquerque, NM 87110.